FAQ
Q: Why haven't I received any emails from you?
A: Please check your inbox or Spam folder. It happens that our email is incorrectly tagged as spam and blocked by users' email filter system. We suggest you adding our email address to your contact list or address book to avoid missing Email messages from us.
Q: What payment methods do you accept?
A: T/T (Bank Transfer/Wire Transfer). Please send the following payment details via email after payment, so we can confirm it and prepare for your order in advance.

T/T (Bank Transfer/ Wire Transfer): T/T copy by photo or by fax
T/T Payment:
- Account No: 817-760283-838
- Beneficiary Name: VANGIANT TECHNOLOGY LIMITED
- Beneficiary Bank Name: HSBC Hong Kong
- Beneficiary Bank Address: 1 Queen's Road Central, Hong Kong
- SBeneficiary Bank Code: 004 (for local payment)
- Swift Address: HSBCHKHHHKH (for telegraphic transfers)


Q: How do I track my orders?
A:Two ways once your goods are delivered:
1) Check our automatic email notification;
2) Log in your account and view the tracking code.
Q: How soon will my order be delivered after payment?
A:Normally in 2-3 working days.
Q: Why does the delivery time takes so long?
A: Sorry for the trouble. Delivery may be affected by weather, customs, policy change and others.If you've been waiting for too long, please contact us or your sales representative.


Delivery time for different shipping methods:
| | |
| --- | --- |
| Shipping Method | Delivery Time |
| UPS | 4-6 Days |
| DHL | 3-6 Days |
| EMS | 5-15 Days |
| NL Post | 12-45 Days |
| Hong Kong Post | 12-45 Days |
| China Post | 5-15 Days |
| singapore Post | 5-15 Days |
Q: Can I pay in other currencies besides USD?
A:Sure.The currencies we accept: British Pound, Australian Dollar, Canada Dollar, Euro, Swiss Franc, Hong Kong Dollar, India Rupee, Russian Ruble, Brazil Real, Denmark Krone, Sweden Krona, Norway Krone, Mexico Peso and Czech Republic Koruna. You may choose a currency on the top of each page as shown by the picture below: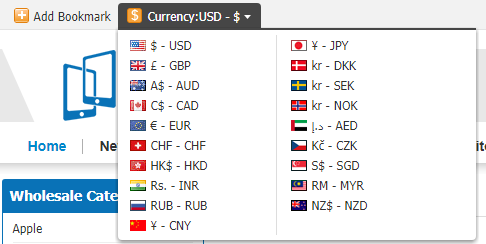 Q: There're so many shipping methods. Which one is the best for me?
A: The following is for your reference:
1) Use DHL/UPS/EMS for USA and Canada, Western Europe and Australia, and for some Asian countries including Japan and Singapore. 2) Use DHL for South America, Middle East including Qatar, Israel, and some East European countries. 3) EMS for most Asian countries including Indonesia and Japan. 4) Hong Kong Post for Brazil and Argentina.
Q: Do I need to pay additional bank fee if I pay by T/T (Bank transfer)?
A:ipartsexpert.com would not charge you any fee for bank transfer. But banks would charge bank-to-bank transfer fee. Say your order is valued of $600, the bank will charge $50 for transferring, so it's altogether $650 you should pay. If you only pay $600, then the payment we receive will be only $550. In this case, we will deliver you the goods valued $550.

As far as we know, if you do oversea bank transfer, there are three types of handling cost involved:
1) Your local bank fee;
2) Oversea bank fee (If the money is not transferred from your bank to our bank directly, customer should be responsible for this inter-bank transfer fee.); 3) Our local bank fee ($60 HKD: if your payment exceeds $800 USD, we can cover this fee for you, otherwise you need to add this fee to us.).
Why haven't I received the order confirmation email or shipping notification message from ipartsexpert.com?
A:  If you placed an order as guest instead of being registered at ipartsexpert.com, you will not receive it as guest checkout does not require you to provide a contact email address.
If you placed an order with a registered account and still didn't receive our emails, please check your spam folder. If you still find nothing, please contact our sales in charge of your order.
Q: Why is my order partially shipped?
A:  When some items of your order are out of stock, we will ship the items which are in stock firstly in case you are in urgent need. Of course, we will inform you when it happens.
Q: What can I do withdefective items?
A: We need pictures or videos of the defective items to confirm. After our confirmation, you can get a full refund, or ask for exchanging goods or placing an new order. As compensation, we may offer a discount for your next order.
Q: Can I customize items, such as to print our own logo, or to alter the design?
A: Yes, for most products on ipartsexpert.com. Please contact us or your sales representative to check with the details.
Q: I'm interested in certain products but they are not listed on ipartsexpert.com. Can you source them for me?
A:We would love to. All you have to do is show us the product images as well as the description. It may take some time.
Q:Can I get a sample for free?
A:  We don't provide free samples. You have to pay for them as we accept one product for an order on ipartsexpert.com.
Q: Can I visit your company in China?
A:Sure. We are glad to meet you in Shenzhen and show you around our workplace. Many overseas buyers visited us before.
Q: Why is"Prohibition on batteries or products with batteries" for HongKong Post?
A: For safety reasons, Hong Kong Post rejects all packages that contain batteries. So if your orders include batteries, please choose shipping methods other than Hong Kong Post.