Checkout & Payment
Payment Methods
We accept payment to our accounts: T/T Payment. After the payment is made, please send the following details to us through email so that we could confirm it and start to prepare for your order.
Account No: 817774284838
Beneficiary Name: GLORIOUS BO LIMITED
Beneficiary Bank Name: HSBC Hong Kong
Beneficiary Bank Address: 1 Queen's Road Central, Hong Kong
Beneficiary Bank Code: 004 (for local payment)
Swift Address: HSBCHKHHHKH (for telegraphic transfers)
Paypal Address: paypal@ipartsexpert.com
Payment In Other Currencies
Besides USD, we also accept the following currency shown on the picture below. You may choose on the top of each page, like this: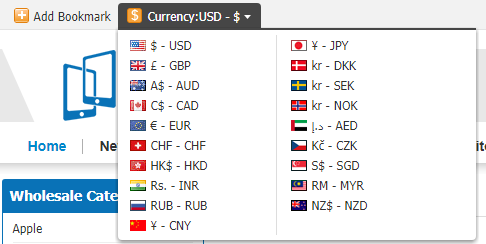 Why is there a 2.4% plus $0.3 PayPal fee on the total amount?
This fee of 2.4% plus $0.3 per transaction is charged by PayPal.
Exchange Rate
USD to RMB exchange rate corresponds with the current exchange rate.
Declarence & Payment With Different Accounts
Please feel free to contact with the sales representatives.
Maximum Amount by Credit Card
The range of credit card payment is $0.1~$2000. For more information, please refer to the bank.
Input Errors
Please check your credit card bank. If it still occurs, contact with our customer service.
T/T(bank transfer) Additional Bank Fee
Ipartsexpert.com would not charge you any fees for bank transfer. But banks would charge bank-to-bank transfer fees. Say you are paying for an $600 order. The bank will charge $50 for transfer, so it's altogether $650 you will remit. If you remit only $600, then the payment we receive will only be $550. In that case, we will deliver you the goods worth $550. 
Overseas Bank Transfer
There are three types of cost involved:
1) your local bank fees;
2) oversea bank fees (If the money is not transferred from your bank to our bank directly, customer should be responsible for this inter-bank transfer fees.);
3) our local bank fee (we can cover $60 HKD for payment over $800 USD for you, otherwise you need to pay the extra fee to us.)